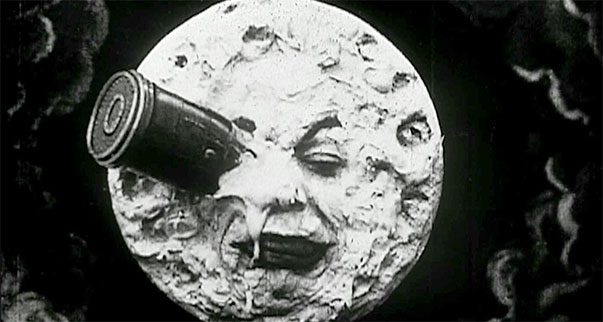 Le Voyage dans la Lune
Directed by: Georges Méliès
1902 | France | 13 minutes | Rated G
| | |
| --- | --- |
| Screening | Saturday, March 2, 2013, 5:00pm - 6:30pm |
Free Event but Reserve Seats are Required
Please note that there has been an update to the schedule of the presentation times for Hugo and Le Voyage dans la Lune. The Saturday 5:00 Screening of Le Voyage dans la Lune is now free.

One of the most groundbreaking and well known silent films of all time, Le Voyage dans la Lune (A Trip to the Moon) tells of 6 brave astronomers who journey from the Earth to the Moon.

A Trip to the Moon, was a lavish epic spectacle in its day but no surviving hand painted color version was known to exist, until 1999, when a brittle, badly decomposed, but almost intact print was found in a Spanish archive. The preservation and restoration, which began with a frame-by-frame digital copy of the crumbling print, took more than ten years. Between the restoration debut at Cannes 2011 and Martin Scorsese's "Hugo" we now have new love letters to the fantastical visions of George Méliès and the magic of silent cinema.
"A Trip to the Moon is a delight, a work of pure, playful imagination, a picture-book fantasy brought to life with intricate, hand-painted sets and a whimsical portrait of science as wizardry by way of the industrial revolution. Méliès was the filmmaker as magician and showman. A Trip to the Moon showcases the best of all these dimensions, and it does so with the pulsating hand-painted colors of the day." - Sean Axmaker

This 5 PM Saturday screening of Le Voyage dans la Lune will be introduced by UCR Professor Susan Laxton, whose areas of specialization include the history of photography and European avantgarde art. Professor Laxton's comprehensive talk will sketch the overview of early film, will show Lumiere clips as well, and will link these films to early chrono-photography.