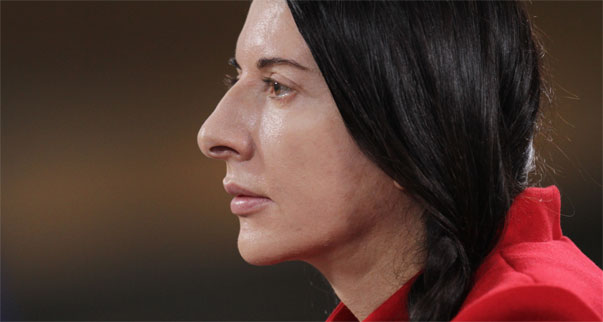 Marina Abramovic: The Artist is Present
Directed by: Matthew Akers
USA | 105 minutes | Unrated
| | |
| --- | --- |
| Screening | Friday, September 28, 2012, 7pm - 9pm |
| Screening | Saturday, September 29, 2012, 7pm - 9pm |
In conjunction with Michael Shroads' exhibition Drag & Logged Sculptures + Noise Drawings, Culver will screen the feature documentary Marina Abramovic: The Artist is Present.
This film focuses on the life and work of the artist considered the "grandmother of performance art." Accompanying the fill will be a short selection of Lillian Schwartz's landmark computer graphic films of the 1970s.
"Matthew Akers directs this documentary portrait of the Serbian performance artist Marina Abramovic as she stages her first major retrospective at the Museum of Modern Art in New York. While the movie maintains an unspoken reverence for its subject, it also helps us understand her work by immersing us in the experience - as well as the mindset. The Artist is Present offers an elegant poem spoken entirely in body language." - Katherine Monk, PostMedia News
Winner, Audience Award, Berlin Film Festival, 2012
Lillian Schwartz is best known for her pioneering work in the use of computers for what has since become known as computer-generated art and computer-aided art analysis, including graphics, film, video, animation, special effects, Virtual Reality and Multimedia. Her work was recognized for its aesthetic success and was the first in this medium to be acquired by The Museum of Modern Art. These films are shown courtesy of the artist and The Ohio State University's Rare Books and Manuscripts Library.