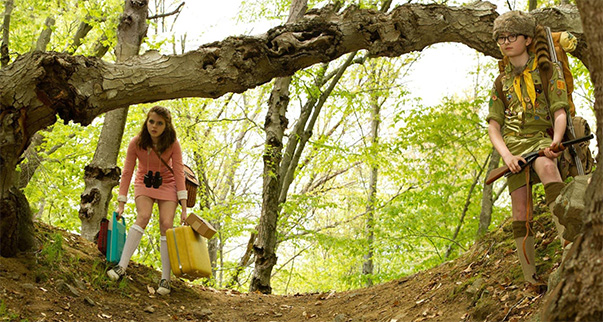 Moonrise Kingdom
Directed by: Wes Anderson
USA | 94 minutes | Rated PG-13
| | |
| --- | --- |
| Screening | Friday, November 23, 2012, 7pm - 9pm |
| Screening | Saturday, November 24, 2012, 7pm - 9pm |
Two twelve-year olds, Sam and Suzy, run away from home into the forests of New England in search of adventure. However, they soon find themselves pursued by a scout troop, the local sheriff, as well as their parents.
"In Moonrise Kingdom, Sam (Jared Gilman) and Suzy (Kara Hayward), who are 12 years old, run away from home. Their sweet, awkward, endearing romance will remind you of your first true love. But
Moonrise Kingdom
isn't a movie about childhood: It's a movie about how we remember childhood, when confrontations with other kids seemed to have life-or-death stakes, grown-ups spoke about things we didn't understand or care about, and it really was possible to run away and go on a wild adventure, as long as you brought the proper supplies. The film is precious and adorable, but it isn't naíve (these kids are becoming sexually aware). Most of Anderson's previous films came from the head; Moonrise Kingdom is from the heart." - Rene Rodriguez,
Miami Herald
.
Nominated, Palme d'Or, Cannes Film Festival 2012