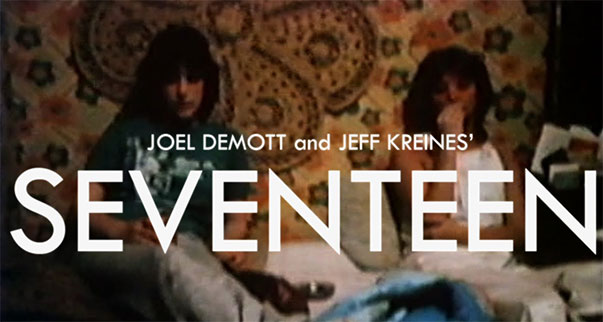 Seventeen - Free Screening and Discussion
Directed by: Joel DeMott, Jeff Kreines
1983 | USA | 120 min | Unrated
| | |
| --- | --- |
| Free Screening and Discussion | Thursday, April 3, 2014, 7pm - 10pm |
Back in 1983 a deafening media doombeat preceded the nuclear-apocalypse TV movie The Day After. But you know what was too scary to show on TV? Seventeen, a cinéma vérité documentary about high-school life in Muncie, first banned by PBS for its foul language and frankness about underage sex and pregnancy, interracial dating, racial hostility, and the sucking void of a teenage Muncie existence. "One of the best and most scarifying reports on American life to be seen. It has the characters and language as well as thevitality and honesty that haunt the memory." Vincent Canby, New York Times.
On Thursday following the film there will be a discussion led by Professor Andrew Winer. Participants are members of the UCR faculty: Andrew Winer, who says that Seventeen changed his life. He is the author of the novels The Marriage Artist and The Color Midnight Made. Erika Suderburg, filmmaker, visual artist and writer. Mike Davis, American writer, political activist, urban theorist, and historian. Jonathan Green, filmmaker and commentator on photography. And Marguerite Waller whose interests include film and media, Renaissance comparative literature, transnational feminism, and globalization. She worked on the Middletown Film Project of which Seventeen was the sixth and final installment.
Limited seating: reserve online.
Winner Grand Jury Prize Documentary, Sundance, 1985