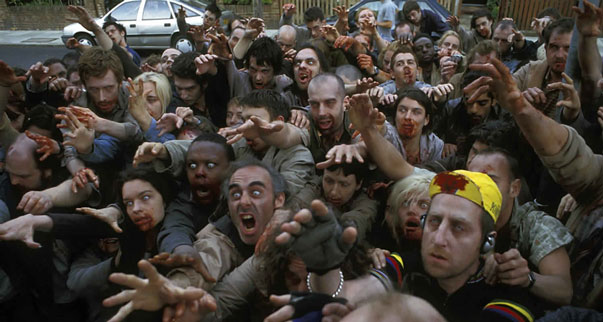 Shaun of the Dead
Directed by: Edgar Wright
2004 | UK-France-USA | 99 minutes | MPAA rating: R
| | |
| --- | --- |
| Screening | Friday, October 18, 2013, 7pm |
| Screening | Saturday, October 19, 2013, 9pm |
Double feature, showing with "Army of Darkness"
This screening is part of a double feature. Shaun of the Dead will screen before Army of the Darkness both evenings. The screening on Saturday, October 19th will begin at 9pm.

A man decides to turn his moribund life around by winning back his ex-girlfriend, reconciling his relationship with his mother, and dealing with an entire community that has returned from the dead to eat the living.
Downtown Riverside will be the hub of Halloween activities with an array of scary and fun events for young and old, especially the Saturday night Zombie Crawl. For this Halloween, Culver will present two nights of frightening and hilarious double features: two cinematic tales of the undead: 1992's Army of Darkness and 2004's Shaun of the Dead! We're screening these Zombie flicks in collaboration with the Riverside Downtown Partnership at 7 pm on Friday and for Zombie aficionados—who want to howl at the full midnight moon—at 9 pm following the official Zombie Crawl on Saturday. These films will be shown in the Culver Atrium, so come in your most terrifying Zombie makeup.

Won 11 Awards: Best Film and Best Horror Film