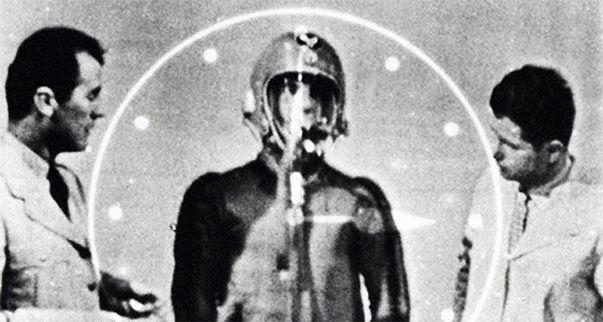 Spectres of the Spectrum
Directed by: Craig Baldwin
1999 | USA | 95 minutes | Unrated
| | |
| --- | --- |
| Screening | Friday, April 12, 2013, 7pm - 9pm |
| Screening | Saturday, April 13, 2013, 7pm - 9pm |
Director Craig Baldwin's plunders his treasure trove of early television shows, industrial and educational films, Hollywood movies, advertisements and cartoons, combining these with live-action footage, no-budget special effects, and relentless narration to generate a wholly original paranoid science-fiction epic.

"No American filmmaker has taken more advantage of the sheer breadth of media including vintage 16- and Super-8mm than Craig Baldwin, whose movies stitch together huge ranges of material--B-movies, commercials, kinescopes, quiz shows, A-movies, industrial films--to create indictments of contemporary culture. All of Baldwin?s movies are about information technologies. This 1999 epic is simultaneously a partially coherent science-fiction parable and a re-telling of the development of mass media." - Tom McCormack, Fandor.


This film is being screened in conjunction with the UCR's Eaton Science Fiction Conference, an academic gathering devoted to the study of science fiction as a literary genre and social phenomenon.
Shown in conjunction with the UCR Eaton Science Fiction Conference.