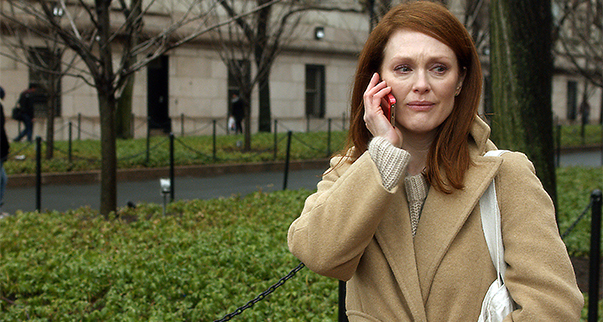 Still Alice
Directed by: Richard Glatzer & Wash Westmoreland
2015 | USA/France | 1hr 39min
| | |
| --- | --- |
| Screening | Friday, August 21, 2015, 7pm |
| Matinee | Saturday, August 22, 2015, 3pm |
| Screening | Saturday, August 22, 2015, 7pm |
"Still Alice is a movie that addresses a nightmarish
circumstance with calm, compassionate sensitivity. It
follows the deterioration of a Columbia linguistics professor
who learns she has early-onset Alzheimer's disease. With
what seems like shocking rapidity, Alice slides from a
witty, intelligent, capable adult into a fragile and confused
shadow of her former self. The title suggests otherwise, of
course, and one of the tragedies of Alzheimer's for friends
and family is that the sufferer seems present and absent at
the same time. Still Alice examines both the philosophical
and emotional aspects of this paradoxical situation, and the
principal vehicle for the inquiry is Ms. Moore's exquisitely
nuanced performance." A.O.Scott, New York Times. 
Winner, Best Performance by an Actress, Academy Awards 2015