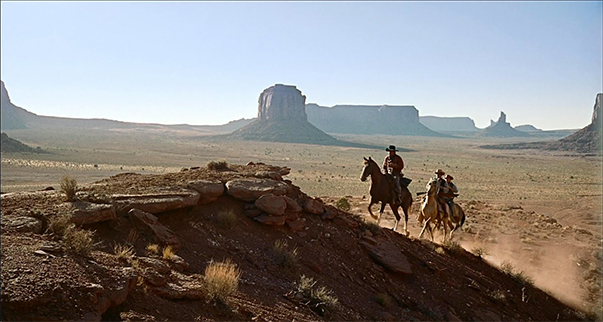 The Searchers
Directed by:
1956 | USA
| | |
| --- | --- |
| Screening | Saturday, July 5, 2014, 7pm |
| Matinee | Saturday, July 5, 2014, 3pm |
Saturday Screenings Only
"If John Ford is the greatest Western director, The Searchers is arguably his greatest film, at once a grand outdoor spectacle and a film about one man's troubling moral codes, a big-screen adventure of the 1950s that anticipated the complex themes and characters that would dominate the 1970s. John Wayne gives his finest performance in a role that predated screen antiheroes of the 1970s. Natalie Wood is striking in her brief role as the 16-year-old Debbie, lost between two worlds, and Winton C. Hoch's Technicolor photography captures Monument Valley's savage beauty with subtle grace. The Searchers paved the way for revisionist Westerns, and influenced such movies as Taxi Driver (1976)." Mark Deming, Rovi.
Directors Guild, Outstanding Directorial Achievement, 1957