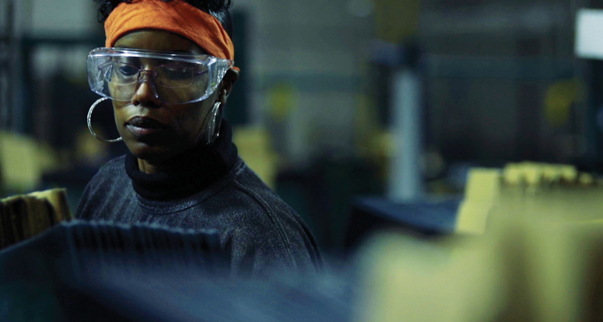 American Factory
Directed by: Steven Bognar and Julia Reichert
2019 | USA | 110 minutes
| | |
| --- | --- |
| Screening | Friday, February 28, 2020, 7pm |
Free Admission!
American Factory takes a thoughtful -- and troubling -- look at the dynamic between workers and employers in the 21st-century globalized economy. The acclaimed film takes a deep dive into a post-industrial Ohio, where a Chinese billionaire opens a new factory in the husk of an abandoned General Motors plant and hires two thousand blue-collar Americans. Early days of hope and optimism give way to setbacks as high-tech China clashes with working-class America. 
From Academy Award-nominated and Emmy Award-winners Julia Reichert and Steven Bognar (The Last Truck: Closing of a GM Plant, A Lion in the House, Seeing Red) comes American Factory, a Netflix Original Documentary presented by Higher Ground Productions and Participant Media.

"American Factory sets out to chart what's supposed to be a test run for the future of the auto industry and an example of positive international relations. It ends up capturing a cross-cultural car wreck in slow motion." - David Fear, Rolling Stone
Please note: A ticket reservation does not guarantee a seat for free screenings - unclaimed tickets will be released to the public 10 minutes before showtime.