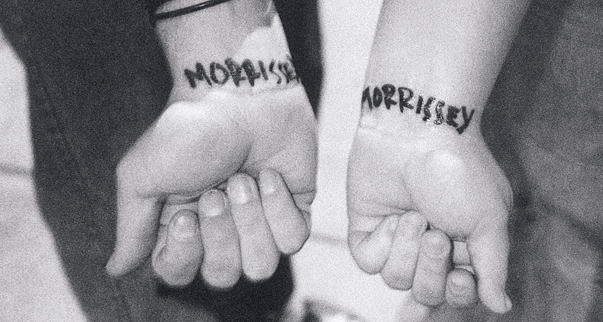 Is It Really So Strange?
Directed by: William E. Jones
2004 | USA | 80 min | Unrated
| | |
| --- | --- |
| Screening | Friday, March 4, 2016, 7pm |
| Screening and Q&A | Saturday, March 5, 2016, 7pm |
Q&A with filmmaker William E. Jones following the Saturday screening
UCR Artsblock is pleased to present artist William E. Jones' documentary Is It Really So Strange? in conjunction with the exhibition Second Wave: Aesthetics of the 80s in Today's Contemporary Art. 
Paralleling Second Wave's consideration of the past's legacy in contemporary art Is it Really So Strange? traces the recuperation of working-class, Manchester-raised singer Morrissey by the Southland's Latino community. 
A carefully crafted portrait featuring interviews with fans and members of The Smiths tribute band The Sweet and Tender Hooligans, Is it Really So Strange? is the first documentary that allows the fans themselves to speak at length about their lives, their loves and their brief encounters with their idol. Prompted by Jones' 2001 discovery of London is Dead, a club exclusively devoted to Morrissey and Smiths' music, the film considers how an exuberant community developed around the melancholic 1980's songs of an artist who, at the time, had not released an album in years – or a Jones' describes it:  "music I had loved long ago."
Featuring photographs and ephemera culled from concerts and venues, Is It Really So Strange? also maps Morrissey fandom from East Los Angeles and the San Gabriel Valley to Riverside and the Inland Empire, focusing on spaces that  "[offer] a better sense of what it is actually like to live in the region." 
UCR Artsblock is proud to bring this exceptional film back to one of the communities that served as its inspiration. 
A conversation between filmmaker William E. Jones and guest curator Alison Kozberg will follow the Saturday screening.
Born in Canton, Ohio William E. Jones is a Los Angeles based filmmaker, artist and writer whose diverse body of work explores materiality, memory and subcultures. His rigorously researched films and videos include  Massillon (1991), Finished (1997), The Fall of Communism as Seen in Gay Pornography (1998) and Model Workers (2014). His work has been the subject of retrospectives at Tate Modern, London, in 2005, and at Anthology Film Archives, New York, in 2010. Jones' books include Tearoom (2008), Heliogabalus (2009), Killed: Rejected Images of the Farm Security Administration (2010), and Halsted Plays Himself (2011) and True Homosexual Experiences: Boyd McDonald and Straight to Hell (2015).
Photograph by William E. Jones and Courtesy of David Kordansky Gallery, Los Angeles, CA