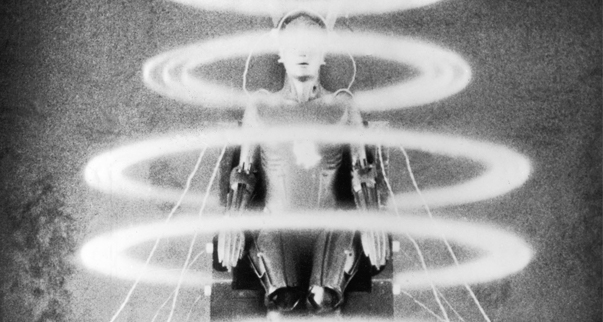 Metropolis
Directed by: Fritz Lang
1927 | Germany | 153 minutes
| | |
| --- | --- |
| Concert | Friday, November 17, 2017, 7pm |
| Symposium | Saturday, November 18, 2017, 3pm |
| Screening | Saturday, November 18, 2017, 6pm |
The Metropolis Multi-Media Event is a joint collaboration by UCR's Departments of Comparative Literature/German Program, Music, History of Art and ARTSblock. The event brings together faculty and students from CHASS and the downtown community of Riverside. It does so by utilizing the varied resources and competences of the institutions involved, and thus seeks to strengthen both interdepartmental and communal corporation. Subject of the event is Fritz Lang's 1927 silent movie masterpiece "Metropolis" whose 90th anniversary it commemorates.
Although a silent film by the standards of its time, "Metropolis" is one of the most remarkable modern attempts to recreate the age-old idea of a total artwork that can combine all existing media into one. Incorporating visual means of film, dramatic art and stagecraft, as well as a strong literary element, present in the intertitles/title cards spread across the film, "Metropolis" was, and is, not least a musical enterprise. Not only is Lang's film arranged in structural units borrowed from music (prelude, intermezzo, furioso) – music, and sound in general, are also among its preeminent topics: from musical and dance interludes to the frenetic soundscapes of the modern city. And music used to be played along with the first screenings of the film, a practice revived today in audio-visual recordings of "Metropolis", which restore the original music of the film.
The Metropolis Multi-Media Event follows the inspiration of Lang's large-sized 'marriage of the arts' while rediscovering the historical roots from which it arose – the interplay of filmic art and live performance. Hence, it will result in a two-day presentation of Lang's film combined with student and guest artist performances dedicated to the film. These audiovisual performances will be short, standalone performances that respond to and vary themes of "Metropolis" – the movie and its eponymous subject – implementing electronic music and piano performed live.
Pieces performed at the concert will include:
Alexander Pettai
Prelude of The Instant World
video and generative audio
Roberta Medina / Davi Valois / Bruna Cabral
Metrohit
video and percussion
Walter Ruttmann / Antonio D'Amato
Opus III
video and sound track
Beto Machado
"Du hast mich gerufen -- Da bin Ich...!"
video and electronic music
Ethan Castro
Remixing Metropolis
music video, featuring Gabrielle Lee (voice)
Patrick Gibson
Music Inspired by Fritz Lang's Metropolis (1927)
video, live piano and digital orchestra
Christiaan Clark
Syncphony
video and live-electronics (MIDI-keyboard)
Francisco Rangel
Entrance and Exit
video and live piano
Vitor Kisil
Metropolis: Thy Soul
video, live piano and electronics
Lia Sfoggia / Guilherme Bertissolo
Base
video, live piano and electronics
Johannes Birringer / Paulo C. Chagas
a thousand machines
film and live piano
The event will further be accompanied by a display of books and other materials from UCR's famous Eaton Collection, available for viewing on the two days of the event, illuminating the legacy of "Metropolis" in 20th century science fiction culture.
A symposium at the second day serves as a stage for short presentations from the organizers of the event and from UCR students who are going to explore vital aspects of Lang's masterpiece from a variety of perspectives, illuminating, among other things, its cinematographic, choreographic, iconographic and literary facets. 
Symposium presentations will include:
Josef Frausto, Amanda Nunez-Galindo, Oscar Valle
"Sounds of Silence"
Timothy Day, Nathanael Mueller, Jenny Lee
"Cityscapes"
Terry Barber, Chinia Lyons, Stanley Muzhutthetu
"Seven Deadly Sins"
Philip Kawada, Robert Zeeb
"Tower of Babel"
Yamille Bernal, Joseph Hart, Jonathan Oaks
"Prelude, Intermezzo, Furioso"
Patrick Gibson
"Image as Source: Fritz Lang's Metropolis Interpreted via Rhythmic Cells and Scalar Sets"
Ethan Castro
"Repeat: Remixing Metropolis"
Christiaan Clark
"Syncphony: Props as Actors"
Organizers
Paulo Chagas, Department of Music, UC Riverside
Johannes Endres, German Program, UC Riverside 
Sue Hertzog, German Program, UC Riverside
JJ Jacobson, UCR Library/Eaton Collection, UC Riverside
John Namjun Kim, German Program, UC Riverside
Nikolay Maslov, ARTSblock, UC Riverside
Sabine Thürwächter, German Program, UC Riverside
UC Riverside Departments of Comparative Literature/German & Music, ARTSblock, Eaton Collection