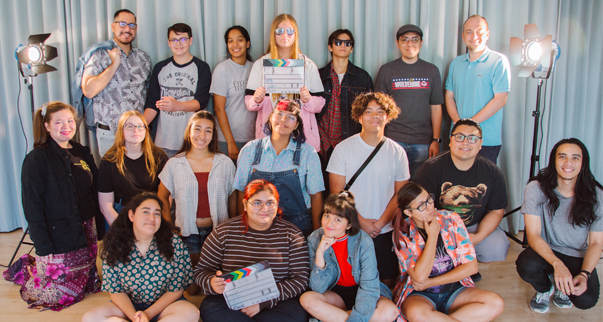 Off the Block On The Screen
Directed by: Off the Block Students
| | |
| --- | --- |
| Screening & Info. Session | Thursday, October 10, 2019, 6pm |
Free Admission!
Join us during Riverside's Long Night of Arts and Innovation to watch and celebrate the films from the 2019 Off the Block Documentary Workshop! Also screened will be highlights from 10 years of the student documentary program.
Off the Block is an award-winning, free media literacy and video production workshop. The program is designed to teach local high-school aged students all the necessary skills to make their own documentary film, from pre-production and planning, to filming and editing. The 5-week course culminates in students collaborating and producing films of their own. 
Each summer for the past 10 years, the stories and projects that OFF THE BLOCK students have produced have explored the stories and histories found in Southern California. Past films have explored  the citrus industry of Southern California, the DREAM Act, the opioid epidemic, school shootings and gun violence, the local wild burro population, and LGBTQ rights all through the stories of local citizens and community members. OFF THE BLOCK films have used animation as the backbone of its storytelling; others have featured first person narration, the direct on-camera presence of our students, or a third-person point-of-view detailing expert opinion and analysis of a subject. OFF THE BLOCK students explore the creative potential of the documentary film format, but also seek to cultivate a disciplined and methodical approach towards fact-finding and truth-seeking.
A very special thank you to UCR ARTS, UC Riverside's College of Humanities, Arts and Social Sciences (CHASS); the City of Riverside; the Riverside Arts Council; the Film, Television, & Video Department at Riverside City College; the Latino Network; Epson USA, and the Spanish Town Heritage Foundation.
This activity is supported in part by the California Arts Council, a state agency. Learn more at arts.ca.gov
Any findings, opinions, or conclusions contained herein are not necessarily those of the California Arts Council.
This project was made possible with support from California Humanities, a non-profit partner of the National Endowment for the Humanities. Visit calhum.org