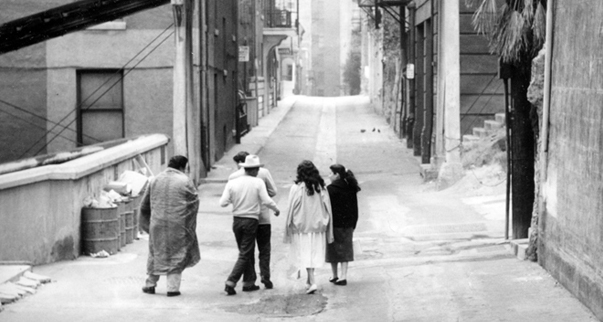 The Exiles
Directed by: Kent MacKenzie
1961 | USA | 72 minutes
| | |
| --- | --- |
| Matinee | Saturday, June 8, 2019, 3pm |
| Screening | Saturday, June 8, 2019, 7pm |
Free admission! This screening is part of the series "Unfinished Diaries: Exile on Film" - presented in conjunction with the exhibition "Exile: The Land of Non-Belonging"
The Exiles

The Exiles chronicles one night in the lives of young Native American men and women living in the Bunker Hill district of Los Angeles. Based entirely on interviews with the participants and their friends, the film follows a group of exiles — transplants from Southwest reservations — as they flirt, drink, party, fight, and dance. Bunker Hill, where most of The Exiles is set, was once the glory of downtown L.A. - a haven for wealthy Los Angelenos set on a steep hill with a magnificent view. But by 1960, the area was a run-down neighborhood of decayed Victorian mansions and skid-row apartment buildings. The seedy charms of Bunker Hill have been celebrated in the novels of John Fante, Raymond Chandler and Charles Bukowski. For the men and women featured in The Exiles the neighborhood is an escape from the monotony of life "back home." The guys spend their night barhopping and gambling while the women try to hold their homes together and go to the movies to dream. The Exiles is now a precious artifact of a lost time and place.
About Exile: The Land of Non-Belonging 
How does it feel to be far from home when going back is out of question? Exile: The Land of Non-Belonging explores the experience of exile and the desire for identity and belonging at a moment when thousands of people are being torn away from their homelands. Coming from Afghanistan, Cuba, Iran, Palestine, and Vietnam, the five artists whose works are included in this exhibition all left their native countries because of forced expatriation or voluntary emigration. They use photography and photo-related practices to narrate their journeys through new environments where gender, ethnicity, and sexuality assume different connotations.
Exile is curated by Camilla Querin, Curatorial Fellow at the California Museum of Photography.