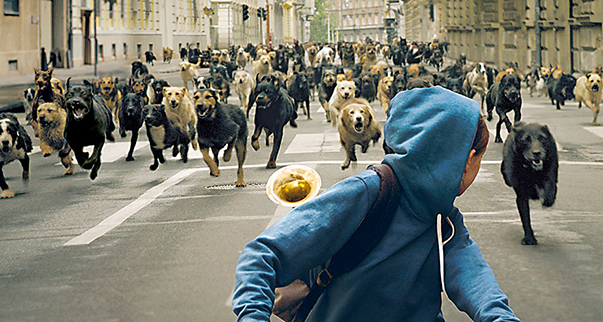 White God
Directed by: Kornel Mundruczo
2015 | Hungary/Germany/Sweden | 1hr 57min
| | |
| --- | --- |
| Screening | Friday, August 14, 2015, 7pm |
| Matinee | Saturday, August 15, 2015, 3pm |
| Screening | Saturday, August 15, 2015, 7pm |
"The Hungarian film White God easily qualifies as one of
the most disturbing films of the year. I'll go one better: It
might be one of the most disturbing films you'll ever see,
a revenge movie in which Budapest's mixed breed dogs
take vengeance on those who treat them cruelly. Because
director Kornel Mundruczo tells his story using real
dogs—lots of them—it's fair to say that White God has no
precedent in film history. Mundruczo's movie is as riveting
as it is novel, a sobering look at what happens when the
natural world turns on those who abuse it. It's possible
(perhaps even advisable) to view White God as an allegory,
but that doesn't mean that its vividly realistic style won't
knock you for a loop." Robert Denerstein, Movie Habit.
Winner, Un Certain Regard, Cannes 2014