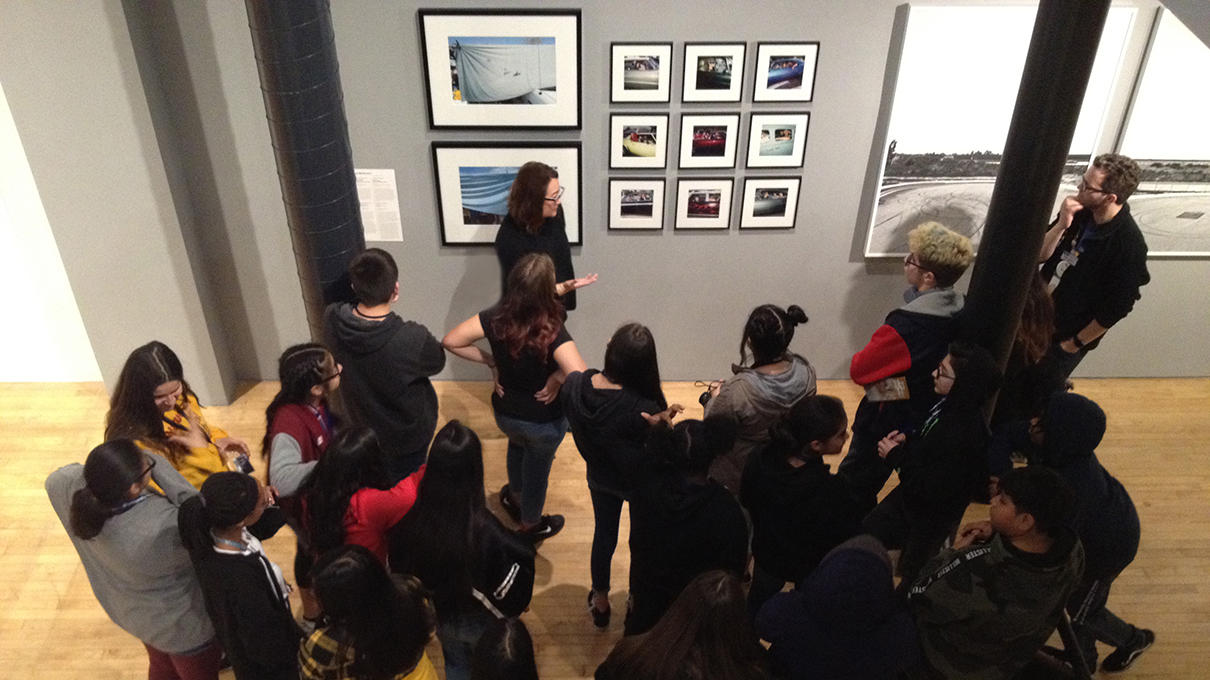 VISITING WITH A GROUP

Explore UCR ARTS with your class or group! Schedule a guided, interactive tour led by staff, or explore our changing exhibitions at your own pace on a self-guided visit.
BOOKING SCHOOL + GROUP VISITS

Guided tours and self-guided visits for groups must be scheduled at least three weeks in advance. Please follow the steps below to schedule your group visit.

Check out our current exhibitions to decide what your group would like to see. 

Request a tour or self-guided group visit through our online form: Book Now 

Prefer a paper form? Download one here.

Museum staff will follow up with any questions and will send an official tour confirmation when your tour is booked. 

Review

Tips for Visiting

below with your group prior to your trip to UCR ARTS. 

Please note: Maximum capacity for school groups is 30 students. Schools must provide a minimum of 1 adult chaperone for every 10 students. Dates, staffing, and space is subject to availability. Your tour is not scheduled until you receive an official tour confirmation email.
FEE SCHEDULE 

Tour guided by Museum Educator ($75 for up to 30 individuals) 

Self-guided museum visit for school or university groups during regular tour hours (free) 

Self-guided museum visit for adult groups not associated with a school or university during tour hours (general admission fees apply).

Tour hours: 12-5pm on Tuesday-Saturday, and 11am-4pm on Sunday. 



Self-guided museum visit outside of tour hours ($75 for up to 30 individuals).

TIPS FOR VISITING

Useful tips to go over with your class or group before your trip to UCR ARTS.

If possible, leave coats, backpacks, and large bags at school or on the bus. They may not be taken into the galleries. They can be placed at the ticket desk before your tour begins. 

Please do not text or make phone calls during tours. 

Feel free to take photos but

please turn off your flash

. For the safety of the artworks, selfie sticks and tripods are not allowed. If you post your photos on social media, please use tag us using #ucrarts. 

Help us preserve the artworks and

do not bring food or drinks into the museum

, and please

refrain from touching the artworks

. 

Please do not lean on or against any structures, including sculptures, pedestals and walls. Our walls and pedestals are meant to hold artwork, not the weight of a person. This can be dangerous for the person and artwork. 

For your safety and the safety of the art, please do not run or jump in the galleries. 

Students and their chaperones must stay with their tour group and docent at all times during the tour. 

If you're sketching or taking notes, please use pencils. Pens, markers, and paint can stain. You can borrow #2 pencils at the ticket desk. 

Chaperones, please take an active role in helping your students follow these guidelines. 

Have a good time!