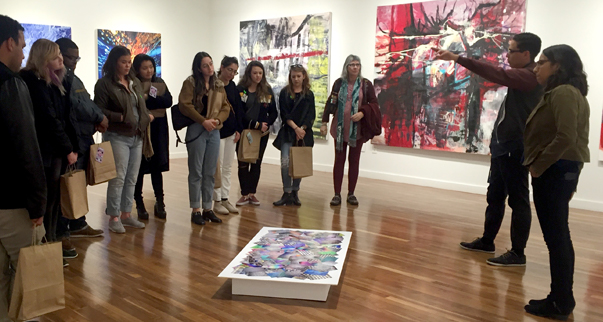 Get involved at UCR ARTS by volunteering! There are many opportunities to get involved as a volunteer whether as a docent or behind the scenes.
DOCENTS
Docents are volunteer tour guides who help visitors connect with art. Docents are trained to lead tours that are conversational and interactive for middle and high school groups, college students, adult groups, and occasional family groups.
We are currently recruiting for the 2021-2022 docent class! Applications are due JUNE 18, 2021. We strongly encourage applicants to attend one of the docent interest meetings listed below to learn more about the program. Register below.
Docent Interest Meeting (Virtual on Zoom) // Wednesday, June 9 at 12:00-1:00pm: https://forms.gle/S1xbAfptTiDPGrMr6
Docent Interest Meeting (Virtual on Zoom) // Monday, June 14 at 6:00-7:00pm: https://forms.gle/X5rxUw1Btj41hWtf8
Benefits:
·       Opportunities to learn more about art, photography, and the inner workings of a museum.
·       Learn directly from curators and artists in behind-the-scenes tours and trainings.
·       Gain volunteer museum education experience to enhance your resumé.
·       Two free tickets to a film of your choice at the Culver Center for the 2021-2022 season.
·       Volunteer appreciation events.
Requirements:
·       Commit to attending required training sessions (approximately 5 in the fall and 5 in the spring)
·       Commit to a minimum of two gallery shifts or two tours per month from September 2021-May 2022.
·       Docents who would like to be involved for more than one year are strongly preferred!
Qualifications:
·       Applicants must be at least 18 years of age.
·       Must be dependable, have excellent customer service skills, and a desire to learn.
·       Prior experience leading group conversations, public speaking, or teaching is preferred.
·       A background in the arts is welcomed but not required! We look for applicants with diverse backgrounds.  
DOCENT APPLICATION: https://forms.gle/DeGm1rzZgfC2HvDC7
Applications DUE June 18, 2021.
VOLUNTEERS

 

Volunteers assist with education programs for families, special events, visitor services, art registration and research, art preparation, and in various behind-the-scenes areas of UCR ARTS.


 
VOLUNTEER APPLICATION: https://forms.gle/Nc9zqwwNm4N4BEVY9
Volunteer applications are accepted year round.


 


Questions? Contact Danielle Peltakian, Associate Manager of Visitor Services and Operations, at danielle.peltakian@ucr.edu