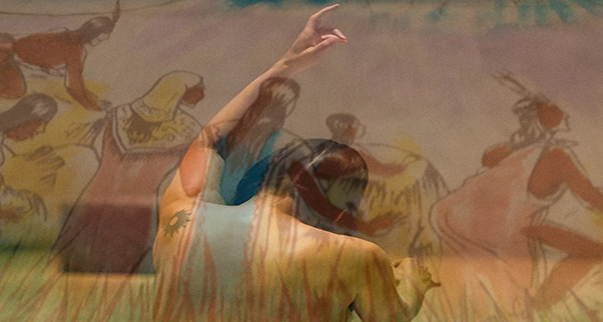 Indigenous Choreographers at Riverside (ICR) Gathering 2016
Culver Center of the Arts
| | |
| --- | --- |
| Morning Welcome/Workshop | Wednesday, November 2, 2016, 8:45am - 10:30am |
| Morning Seminar (RSVP required for lunch) | Wednesday, November 2, 2016, 10:45am - 1:00pm |
| Afternoon Seminar and Tribute | Wednesday, November 2, 2016, 1:00pm - 4:10pm |
| California Dance Roundtable | Wednesday, November 2, 2016, 4:10pm - 6:00pm |
| Evening Performance | Wednesday, November 2, 2016, 8pm - 9pm |
Free admission. Space is limited. Please RSVP for morning, afternoon and/or evening performance to guarantee a spot.
The Indigenous Choreographers at Riverside (ICR) project is an annual event that brings Indigenous dance artists and Indigenous studies scholars to campus to connect, discuss, and share work. We look at ways Indigenous dance, in many diverse forms and locations, engages Indigenous knowledges, and at the import of these articulations in the context of ongoing coloniality. 
This year, the ICR project brings Indigenous dance artists and Indigenous studies scholars together to address
Webs of Support for Indigenous Dance/Inside and Outside of Institutions
. Topics to be discussed at this all-day conference include: how the academy and institutions support - or obstruct - possibilities for the thriving of Indigenous dance; and what parallel, alternative, and/or counter-hegemonic practices and responses are taking place outside of these institutions to support Indigenous dance. The conference includes a tribute and panel centered around critical perspectives on Native dance in California, including that discussed in a manuscript on Mohave bird singing that the late Michael Tsosie shared at last year's ICR. It concludes with an evening performance featuring new choreography.
Dance artists participating in this year's gathering include: Daystar/Rosalie Jones (Daystar: Contemporary Dance-Drama of Indian America); Rosy Simas (Rosy Simas Danse); Rulan Tangen and Anne Pesata (DANCING EARTH Indigenous Contemporary Dance Creations); Emily Johnson (Emily Johnson/Catalyst); Louise Potiki Bryant (Aotearoa/New Zealand); David Smith (Pomo Dance Captain); Alejandro Ronceria (Canada); Jack Gray (Aotearoa/New Zealand and NYU); others TBC. 
Wednesday, Nov. 2 
MORNING WORKSHOP:
8:45-9:15: Conference Registration/coffee 
9:15-9:40 – Welcome: Jacqueline Shea Murphy (UCR Professor and  ICR director), Gerald Clarke (UCR Professor and Cahuilla leader), Tyler Stallings (Artistic Director, Culver Center of the Arts). 
9:45-10:30:  Movements, actions, possibilities, futurities. Participatory workshop led by Emily Johnson [Brithinee Studio] 
MORNING SEMINAR: (RVSP required for lunch) 
10:45-12:15   Seminar 1:  Indigenous Dance Inside and outside of Institutions: What is needed? Problems and Possibilities [Hammond Studio] 
Facilitator: Julie Burelle (UCSD-Theater) Karyn Recollet (University of Toronto) Rosy Simas (Rosy Simas Danse) Tria Blu Wakpa (UC Berkeley) Neil MacLean (Ohlone Profiles) Rulan Tangen (DANCING EARTH) Jack Gray (New Zealand/NYU)   
12:15-1:00: Lunch 
AFTERNOON SEMINAR and TRIBUTE: 
1:00-3:00: Seminar 2: Indigenous Dance and Institutional Support:  What is happening? Continuities, Innovations, Structures Facilitator: Maile Arvin (UCR-Ethnic Studies; Hawai'i) Maria Firmino Castillo (CIIS; Guatemala) Daystar/Rosalie Jones (Trent University, Canada) Rachel Fensham (University of Melbourne, Australia) Louise Potiki Bryant (New Zealand) Lisa Wymore (UC Berkeley, US) Tyler Stallings  (Culver Center of the Arts, US) Alejandro Roncería (choreographer, Canada)   
3:00-3:10:  Coffee break   
3:10-4:10:  Performative tribute to the late Michael Tsosie, led by Rulan Tangen and Anne Pesata. [Brithinee studio]   
CALIFORNIA DANCE ROUNDTABLE: 
4:10-6:00:  Roundtable:  Physicalized Intelligence and California Indian Dance:  Provocations, Politics, Possibilities (Honoring the work and wit of Michael Tsosie) [Culver screening room]  
Facilitator: Mark Minch (UCR-Indigenous Studies/English) Cutcha Rising Baldy (San Diego State) Gerald Clarke (UCR, Indigenous Studies/Ethnic Studies) David Smith (Pomo Dance Captain) Bernadette Smith (Pomo Dancer) Cahuilla bird singing leaders (TBC)     
EVENING PERFORMANCE: 
8 p.m.  Indigenous Choreography at the Culver   
Featuring two new works by renowned Indigenous choreographers: Daystar/Rosalie Jones, Dancing the Four Directions 
Rosy Simas Danse, Skin(s)   
Response panel: Michelle Raheja (UCR, English; Director, California Center for Native Nations) Mishuana Goeman (UCLA, Gender Studies] Taisha Paggett (UCR, Dance) Louise Potiki Bryant (New Zealand) Rachel Fensham (Australia) Alejandro Roncería (Canada) 
The presentation of Skin(s) by Rosy Simas Danse was made possible by the New England Foundation for the Arts' National Dance Project, with lead funding from the Doris Duke Charitable Foundation and The Andrew W. Mellon Foundation.
Support has been provided by UCR College of Humanities, Arts and Social Sciences (CHASS) and the City of Riverside.